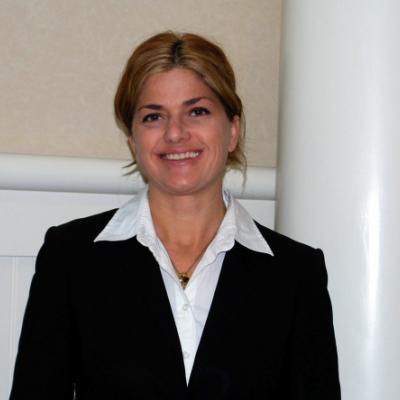 Kelly Happe is associate professor in the Department of Communication Studies.  She holds a joint appointment with the Institute for Women's Studies.
Professor Happe received her PhD in rhetoric, with a secondary emphasis in media studies, at the University of Pittsburgh under the direction of Carol Stabile. While there, she also studied extensively with faculty in the Cultural Studies program and  the History and Philosophy of Science department. Her work was supported by a Cultural Studies Fellowship, a Mellon Pre-doctoral Fellowship, and she was the recipient of the best dissertation of the year award from the Women's Studies department.
While a faculty member at NIU and UGA, she has been awarded several institutional grants to support her research on the public and scientific discourse of genetics. Her scholarship has appeared in The Quarterly Journal of Speech, Rhetoric and Public Affairs, Patterns of Prejudice, New Genetics and Society, Journal of Medical Humanities, MediaTropes, Philosophy and Rhetoric, and other venues.  Her book, The Material Gene: Gender, Race, and Heredity After the Human Genome Project was published by NYU Press as part of its "Biopolitics" series and is winner of the 2014 Diamond Anniversary Book Award from the National Communication Association. Dr. Happe is also the recipient of the 2014 Golden Anniversary Monograph Award for her essay "The Body of Race: Toward a Rhetorical Theory of Racial Ideology." She is co-editor of the book Bioctizenship: On Bodies, Belonging, and the Politics of Life, forthcoming from NYU Press.
In 2017-2018, Dr. Happe will be serving as a Study in a Second Discipline Fellow in the Department of Genetics. During her fellowship, she will be learning the science of epigenetics under the tutelage of one of the nation's leading epigenetics researchers.  The fellowship is part of her ongoing work on the politics and philosophy of emerging biological concepts, and in particular, their influence on the humanities and social sciences. She is also writes on various topics related to rhetoric, utopia, and radical economic thought. Her next book project, tentatively titled New Materialism, the Humanities, and Ideologies of Theory, examines the uptake of different theories of the material in the humanities such as historical materialism, affect, and epigenetics.
Prof. Happe teaches courses in rhetorical theory, feminist theory, research methods, science studies, and environmental communication.  She currently serves on the editorial boards of Quarterly Journal of Speech, Women's Studies in Communication, Southern Communication Quarterly, and Rhetoric of Health and Medicine. In 2018, she will begin serving as the Book Review Editor for Philosophy and Rhetoric.
Of note:
Dr. Happe has been awarded a 2017-2018 Study in a Second Discipline Fellowship to study epigenetics in UGA's Department of Genetics.